A
Service Desig
n Project for Goodwill
Thrift Store
Goodwill NYNJ is a nonprofit organization with donation based retail store whose proceeds go to providing job training, employment placement services, and other community-based programs for people who have barriers preventing them from otherwise obtaining a job. One in seven Goodwill retail employees has some form of disability.
Why should people use this service?
Donating
Donations are easy, all donations are accepted.
Goodwill tries to make use of every donation they receive• Tax Receipts are provided for every donation.
Shopping
Clothing is affordable with flat prices.
Good variety of high quality clothing.
Rewards program for frequent shoppers.
Community Impact

Profits are used to help disadvantaged people in the community• 1 in 7 Goodwill retail employees are people with disabilities.
Last year Goodwill placed 1,173 people into jobs.
☞ The average New Yorker tosses 46 pounds of clothing and other textiles in the trash each year.
☞ In NYC alone 400 million pounds of clothes are thrown away annually.
☺ "I've never donated to Goodwill since living in New York. I'm not sure where the nearest one is off the top of my head."
Katie, East Village - 'donater'

☺ "When you find something nice that fits your style, it feels like a needle in a haystack it's special."

Mai, Goodwill Union Square - 'shopper'
☺ "The problem is people don't know. We need to do a better job of letting people know."
Gio, Manager Goodwill NY - employee
How might we improve the donating experience?
Improve the convenience for donating things can stimulate people to donate more and understand the importance of that.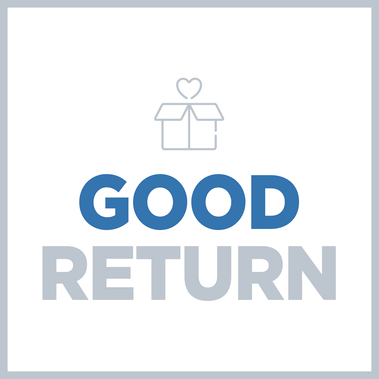 A Goodwill's Return Tag for the online purchase
The return tag for Goodwill is a way of adding the action of donating in our everyday life. The idea consists of adding a return a tag when checking out on an online store.

This way when you receive your package you can remove your new clothes, replace with old ones, and send it 'back' to Goodwill.